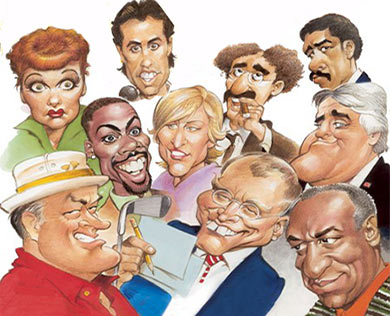 Laughable quotes, short jokes, one-liners, humorous sayings.
page 6 of 6
Environment
The planet is fine. The people are fucked.
What do you do when you see an endangered animal that eats only endangered plants?
Weather
Weather forecast for tonight: dark.
It's freezing and snowing in New York – we need global warming!
Shadow
I got a new shadow. I had to get rid of the other one – it wasn't doing what I was doing.
Sea
The best cure for sea sickness is to sit under a tree
I have a large seashell collection which I keep scattered on the beaches all over the world. Maybe you've seen it.
How much deeper would the ocean be if sponges didn't live there?
Night
The other night I was lying in bed, looking up at the stars, and I wondered, "where the hell is my roof?"
Darkness
Weather forecast for tonight: dark.
They say that instead of cursing the darkness, one should light a candle. Nothing is mentioned, though, about cursing a lack of candles
What is the speed of dark?
Animals
If man evolved from monkeys and apes, why do we still have monkeys and apes?

— Anonymous

Condensed milk is wonderful. I don't see how they can get a cow to sit down on those little cans.
Plants
My fake plants died because I did not pretend to water them.
What are they planting to grow the seedless watermelon?
Dogs
I tell ya, my dog is lazy. He don't chase cars. He sits on the curb and takes down license plate numbers.
Outside of a dog, a book is man's best friend. Inside of a dog, it's too dark to read.
Dogs are forever in the push up position.
Some dog I got too. We call him Egypt. Because in every room he leaves a pyramid.
Noblest of all dogs is the hot-dog; it feeds the hand that bites it.
Horses
The horse I bet on was so slow, the jockey kept a diary of the trip.
Birds
Eagles may soar, but weasels don't get sucked into jet engines.
page 6 of 6
---