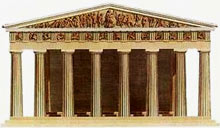 Well known quotations with some historic value
There are three kinds of lies: Lies, Damn Lies, and Statistics.

— Benjamin Disraeli, 1804-1881, British Prime Minister

Religion is regarded by the common people as true, by the wise as false, and by rulers as useful.
Victory has a thousand fathers, but defeat is an orphan.

— Galeazzo Ciano, 1903-1944, Italian politician

Genius is one percent inspiration, ninety-nine percent perspiration.
If you love somebody, let them go, for if they return, they were always yours. If they don't, they never were.

— Khalil Gibran, 1883-1931, Lebanese-American poet & philosopher

Art is long, life is short.

Ars longa, vita brevis.

— Hippocrates, 460-377 BC, Ancient Greek physician, the 'Father of Medicine'

Those who cannot remember the past are condemned to repeat it.
Two roads diverged in a wood, and I —
I took the one less traveled by,
And that has made all the difference.
I think therefore I exist.

Cogito ergo sum.

Seize the day.

Carpe diem.

Hannibal at the gates.

Hannibal ad portas.

(Roman alert when Hannibal was approaching to Rome, around 217 BC)

God wills.

Deus vult.

(the motto of the Christian warriors in the Crusades)

I disapprove of what you say, but I will defend to the death your right to say it.
The finest trick of the devil is to persuade you that does not exist.
Poetry is what gets lost in translation.
Divide and conquer.

Divide ut regnes.

Vivere pericolosamente.

To live dangerously.

— Friedrich Nietzsche, 1844-1900, German philosopher

(the phrase in its Italian version was popularized by Mussolini)

Elementary, my dear Watson. Purely elementary.

— from the film The Adventures of Sherlock Holmes (1939)

When in Rome, do as the Romans do.

— St. Ambrose, 340-397, Bishop of Milan, Church Father

The road to hell is paved with good intentions

— St Bernard de Clairvaux, 1091-1153, French saint & abbot of the Cistercian order

To make a man happy, add not unto his riches but take away from his desires.
L' etat c'est moi.

I myself am the state.

— Louis XIV of France, 1638-1715, King of France (le Roi Soleil)

The most important thing in the Olympic Games is not winning but taking part.

— Pierre de Coubertin, 1863-1937, French, father of the Olympic Games

To be, or not to be: that is the question.
Go ahead, make my day.

— from the film Sudden Impact (1983)

The only thing necessary for the triumph of evil is for good men to do nothing.
History is written by the winners.
If you gain, you gain all. If you lose, you lose nothing. Wager then, without hesitation, that He exists.
First they ignore you, then they ridicule you, then they fight you, and then you win.
Democracy is the worst form of government, except for all the others.

— Winston Churchill, 1874-1965, British Prime Minister, Nobel 1953

I have nothing to offer but blood, toil, tears and sweat.

— Winston Churchill, 1874-1965, British Prime Minister, Nobel 1953

Laws are like sausages. It is better not to see them being made.
People never lie so much as after a hunt, during a war, or before an election.
Those who would give up essential Liberty, to purchase a little temporary Safety, deserve neither Liberty nor Safety.

— Benjamin Franklin, 1706-1790, American politician & writer

Time is money.

— Benjamin Franklin, 1706-1790, American politician & writer

God doesn't play dice with the world.
Religion is the opium of the people.
What does not kill me, makes me stronger.
All animals are equal, but some animals are more equal than others.
War is much too serious a thing to be left to military men.
Ask not what your country can do for you… ask what you can do for your country.
Knowledge is power.
Hope is a good breakfast, but it is a bad supper.
Nations have no friends, only interests.
If God did not exist, it would be necessary to invent him.
Those who can bear all can dare all.
I have a dream that my four little children will one day live in a nation where they will not be judged by the color of their skin, but by the content of their character.

— Martin Luther King, 1929-1968, American leader in the Civil Rights Movement

Power tends to corrupt, and absolute power corrupts absolutely.
Don't one of you fire until you see the whites of their eyes.

— William Prescott, American general

This is the way the world ends
Not with a bang but a whimper.
Plans are nothing; planning is everything.

— Dwight Eisenhower, 1890-1969, American general & President

It's a recession when your neighbor loses his job; it's a depression when you lose your own.
Work Hard. Do your best. Keep your word. Never get too big for your britches. Trust in God. Have no fear; and Never forget a friend.
Winners never quit and quitters never win.
A young man who isn't a socialist hasn't got a heart; an old man who is a socialist hasn't got a head.

— David Lloyd George, 1863-1945, British Prime Minister [1916-1922]

It is not the strongest of the species that survives, not the most intelligent that survives. It is the one that is the most adaptable to change.
I have called this principle, by which each slight variation, if useful, is preserved, by the term of Natural Selection.
He serves his party best who serves the country best.

— Rutherford B. Hayes, 1822-1893, American President [1877-1881]

If you can dream it, you can do it.
---