best quotations about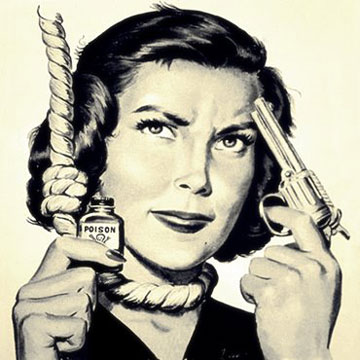 ---
Quotations
What a fine weather today! Can't choose whether to drink tea or to hang myself.

— Anton Chekhov, 1860-1904, Russian writer

There are many who dare not kill themselves for fear of what the neighbours will say.
Should I kill myself, or have a cup of coffee?
You think you are killing me. I think you are committing suicide.
Preventive war is like committing suicide for fear of death.
That's how we stay young these days: murder and suicide.
Write something, even if it's just a suicide note.
But in the end one needs more courage to live than to kill himself.
To kill time is not murder, it's suicide.
If you are killing time, it's not murder. It's suicide.
There is but one truly serious philosophical problem and that is suicide. Judging whether life is or is not worth living amounts to answering the fundamental question of philosophy.
---
Quotes in Verse
Razors pain you, Rivers are damp, Acids stain you, And drugs cause cramp.
Guns aren't lawful, Nooses give, Gas smells awful.
You might as well live.

— Dorothy Parker, 1893-1967, American writer, poet, satirist, critic
---
Funny Quotes
If a person with multiple personalities threatens suicide, is that considered a hostage situation?
I tried to hang myself with a bungee cord. I kept almost dying.
There have been times when I've thought of suicide but with my luck it'd probably be a temporary solution.
---
Movie Quotes
He won't kill himself. It would please too many people.

— from the film Twentieth Century (1934)

Why don't you hurry up and commit suicide? We need the room for our cousin from the south.

— from the film Alphaville (1965)
---
---