best quotations about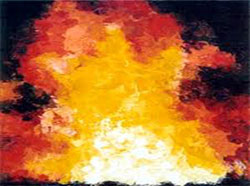 ---
Quotations
The flame that burns twice as bright burns half as long.
It is almost impossible to carry the torch of truth through a crowd without singeing somebody's beard.

— Georg Christoph Lichtenberg, 1742-1799, German author of maxims

The foundation of all technology is fire.
Government is not reason; it is not eloquent; it is force. Like fire, it is a dangerous servant and a fearful master.

— George Washington, 1732-1799, the first American President

In each fire there is a spirit; Each one is wrapped in what is burning him.
I'm sure that Nero didn't set fire to Rome. It was the Christian-Bolsheviks who did that, just as the Commune set fire to Paris in 1871 and the Communists set fire to the Reichstag in 1932.
---
Ancient Greek
This world, which is the same for all, has not been made by any god or man, but it always has been, is, and will be an ever-living fire.

Κόσμον τονδε, τον αυτόν απάντων, ούτε τις θεών ούτε ανθρώπων εποίησεν, αλλ' ην αεί και έστιν και έστε πύρ αείζωον.

— Heraclitus, 544-484 BC, Ancient Greek philosopher
---
Proverbs
Where there's smoke, there's fire.
Fire is a good servant but a bad master.
Fight fire with fire.
---
Movie Quotes
Anybody got a match?

— from the film To Have and Have Not (1944)
---
---