best quotations about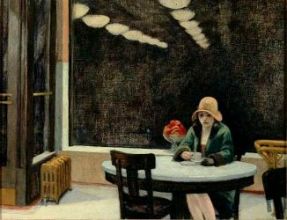 ---
Quotations
The neurotic always wishes people would let him alone - until they do.
He who is unable to live in society, or who has no need because he is sufficient for himself, must be either a beast or a god.
I hate who steals my solitude, without really offer me in exchange company.
Tears do not burn except in solitude.
Man's loneliness is but his fear of life.

— Eugene O'Neill, 1888-1953, American playwright, Nobel 1936

In Moscow you sit in a huge room at a restaurant; you know no one and no one knows you, and at the same time you don't feel a stranger. But here you know everyone and everyone knows you, and yet you are a stranger… A stranger, and lonely.
He makes a solitude, and calls it - peace!
Solitude vivifies; isolation kills.
Without great solitude, no serious work is possible.
All of humanity's problems stem from man's inability to sit quietly in a room alone.
Solitary trees, if they grow at all, grow strong.

— Winston Churchill, 1874-1965, British Prime Minister, Nobel 1953

To live alone one must be an animal or a god - says Aristotle. There is yet a third case: one must be both - a philosopher.
A man can be himself only so long as he is alone.
Great men are like eagles, and build their nest on some lofty solitude.
The worst loneliness is to not be comfortable with yourself.
I had a lot of dates, but I decided to stay home and dye my eyebrows.
I long for solitude and yet I cannot stand it.
The end comes when we no longer talk with ourselves. It is the end of genuine thinking and the beginning of the final loneliness.
Solitude, the safeguard of mediocrity, is to genius the stern friend.
He never felt loneliness except when he was happy.
The two conditions that lead others to languor – i.e. leisure and solitude – him made sharper.

— Cicero, 106-43 BC, Roman orator & statesman

(on Scipio)

He who does not fill his world with phantoms remains alone.
Solitude desolates me; company oppresses me.
If you cannot live alone, you were born a slave.
God created man, and finding him not sufficiently alone, gave him a female companion so that he might feel his solitude more acutely.
Solitude would be an ideal state if one were able to pick the people one avoids.
As I shall lie in the grave alone, so in fact I live alone.
It is better to be alone than in bad company.

— George Washington, 1732-1799, the first American President

If you are idle, be not solitary; if you are solitary be not idle.
Loneliness does not come from having no people around, but from being unable to communicate the things that seem important to oneself, or from holding certain views which others find inadmissible.
---
Personal Stories
I only go out to get me a fresh appetite for being alone.
---
Quotes in Verse
With no consideration, no pity, no shame,
they have built walls around me, thick and high.

— Constantine Kavafy, 1868-1933, Greek poet ‐ Walls

I have no ambitions nor desires
To be a poet is not my ambition,
It's simply my way of being alone.
---
Proverbs
Even in paradise it is not good to be alone.
---
---