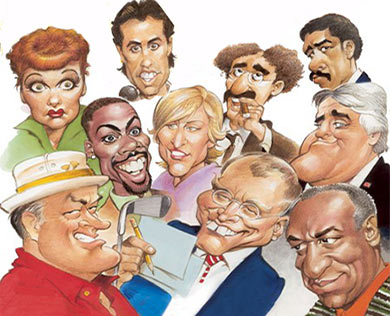 Laughable quotes, short jokes, one-liners, humorous sayings.
page 3 of 6
Relationships
I don't have a girlfriend. But I do know a woman who'd be mad at me for saying that.
Love
I always wondered how I could tell when the right one came along - but it was easy. He was the only one that came along.
Kiss
They say a tie is like kissing your sister. I guess that is better than kissing your brother.
Man & Woman
Here's all you have to know about men and women: women are crazy, men are stupid. And the main reason women are crazy is that men are stupid.
Outside every thin woman is a fat man trying to get in.
If a man says something in the woods and there are no women there, is he still wrong?

— Anonymous

I take my wife everywhere, but she keeps finding her way back.
Seduction
Drink 'til she's cute, but stop before the wedding.
Eroticism
Is that a gun in your pocket, or are you just glad to see me?

— Mae West, 1892-1980, American actress

(said it in the film Sextette,1978, but already attributed to West since the 1930s)

I've been in more laps than a napkin.
Anyone who says he can see through women is missing a lot.
I'm all for bringing back the birch, but only between consenting adults.
Sex
Men have two emotions: Hungry and Horny. If you see him without an erection, make him a sandwich.

— Anonymous

Life is a sexually transmitted disease.

— Anonymous

What a kid I got, I told him about the birds and the bee and he told me about the butcher and my wife.
If it wasn't for pick-pockets I'd have no sex life at all.
Now that Marilyn Monroe is kosher, Arthur Miller can eat her.
Outside every thin woman is a fat man trying to get in.
I don't know the question, but sex is definitely the answer.
Love is the answer. But while you're waiting for the answer, sex raises some pretty good questions.
Is sex dirty? Only if it's done right.
Sex without love is an empty experience. But as empty experiences go, it's one of the best.
Sex between a man and a woman can be wonderful, provided you can get between the right man and the right woman.
I can remember when the air was clean and sex was dirty.
Sex at age 90 is like trying to shoot pool with a rope.
A woman is, occasionally, quite a serviceable substitute for masturbation. It takes an abundance of imagination, to be sure.
Having sex is like playing bridge. If you don't have a good partner, you'd better have a good hand.
Prostitution
It has been said that politics is the second oldest profession. I have learned that it bears a striking resemblance to the first.
Homosexuality
Bisexuality immediately doubles your chances for a date on Saturday night.
Marriage
Don't get down on one knee for a woman who won't get down on two for you.

— Anonymous

Don't forget Mother's Day. Or as they call it in Beverly Hills, Dad's Third Wife Day.
My marriage is on the rocks again, yeah, my wife just broke up with her boyfriend.
My wife and I were happy for twenty years. Then we met.
Marriage...it's not a word, it's a sentence.
The secret of a happy marriage remains a secret.
She's been married so many times she has rice marks on her face.
Marriage, n. The state or condition of a community consisting of a master, a mistress and two slaves, making in all, two.
Adultery
My wife met me at the door the other night in a sexy negligee. Unfortunately, she was just coming home.
I've been in love with the same woman for forty-one years. If my wife finds out, she'll kill me.
When a man marries his mistress, he creates a job vacancy.
Parents
My parents didn't want to move to Florida, but they turned 60 and that's the law.
When I was a kid my parents moved a lot, but I always found them.
My father never raised his hand to any one of his children, except in self-defense.
Family
Happiness is having a large, loving, caring, close-knit family in another city.
I believe in large families: every woman should have at least three husbands.
Children
We spend the first 12 months of our children's lives teaching them to walk and talk and the next 12 years teaching them to sit down and shut up.
Always be nice to your children because they are the ones who will choose your rest home.
I still take the pill. I don't want any more grandchildren.
Friendship
If Barbie is so popular, why do you have to buy her friends?
Conversation
During the Samuel Johnson days they had big men enjoying small talk; today we have small men enjoying big talk.
Treating others
Treat employees like partners, and they act like partners.
Reciprocity
Always go to other people's funerals, otherwise they won't come to yours.

— Yogi Berra, 1925-2015, American baseball player & humorist

Babble
I haven't spoken to my wife in years. I didn't want to interrupt her.
God is silent. Now if only man would shut up.
Seeing
Anyone who says he can see through women is missing a lot.
Secrets
The secret of a happy marriage remains a secret.
There are advantages to being elected President. The day after I was elected, I had my high school grades classified Top Secret.
Advice
The four most beautiful words in our common language: I told you so.
Have you noticed that whatever sport you're trying to learn, some earnest person is always telling you to keep your knees bent?
Yielding
I don't want any yes-men around me. I want everybody to tell me the truth even if it costs them their job.
Competition
The sooner you fall behind, the more time you'll have to catch up.
Rejection
I can answer you in two words: im-possible!
Conflict
If you can't beat them, arrange to have them beaten.
Protesting
Riot: A popular entertainment given to the military by innocent bystanders.
page 3 of 6
---