best quotations about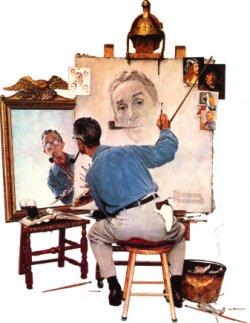 ---
Quotations
One's own self is well hidden from one's own self: of all mines of treasure, one's own is the last to be dug up.
To be happy you must have taken the measure of your powers, tasted the fruits of your passion, and learned your place in the world.
To know that we know what we know, and that we do not know what we do not know, that is true knowledge.
Adversity is the state in which man most easily becomes acquainted with himself, being especially free of admirers then.
He who overcomes others is strong, but he who overcomes himself is mightier still.
At the center of your being you have the answer; you know who you are and you know what you want.
The best way to find yourself is to lose yourself in the service of others.
Know thyself? If I knew myself I would run away.
To become what one is, one must not have the faintest idea what one is.
In his private heart no man respects himself.
Only the shallow know themselves.
Lack of sensitivity is perhaps basically an unawareness of ourselves.
Nothing human is finally calculable; even to ourselves we are strange.
Art attracts us only by what it reveals of our most secret self.
To enter into your own mind you need to be armed to the teeth.
Everything that irritates us about others can lead us to an understanding of ourselves.
Knowing your own darkness is the best method for dealing with the darknesses of other people.
Your visions will become clear only when you can look into your own heart. Who looks outside, dreams; who looks inside, awakes.
There are 10 men in me and I do not know or understand one of them.
Man will only become better when you make him see what he is like.
When men ask me how I know so much about men, they get a simple answer: everything I know about men, I learned from me.
He who knows others is wise, but he who knows himself is enlightened.
---
Ancient Greek
---
Proverbs
No one sees the hump on his own back.
---
---