best quotations about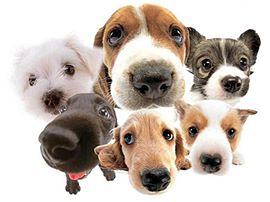 ---
Quotations
Dogs never bite me - just humans.
The more I see of Mankind, the more I prefer my dog.
Hounds follow those who feed them.
He that lies down with dogs shall rise up with fleas.

— Benjamin Franklin, 1706-1790, American politician & writer

If a dog jumps into your lap, it is because he is fond of you; but if a cat does the same thing, it is because your lap is warmer.

— Alfred North Whitehead, 1861-1947, British philosopher & mathematician

To be sure, the dog is loyal. But why, on that account, should we take him as an example? He is loyal to man, not to other dogs.
You want a friend in Washington? Get a dog.
Dogs...do not ruin their sleep worrying about how to keep the objects they have, and to obtain the objects they have not. There is nothing of value they have to bequeath except their love and their faith.

— Eugene O'Neill, 1888-1953, American playwright, Nobel 1936
---
Quotes in Verse
The old dog barks backward without getting up;
I can remember when he was a pup.
---
Funny Quotes
Dogs are forever in the push up position.
Some dog I got too. We call him Egypt. Because in every room he leaves a pyramid.
I tell ya, my dog is lazy. He don't chase cars. He sits on the curb and takes down license plate numbers.
Outside of a dog, a book is man's best friend. Inside of a dog, it's too dark to read.
Noblest of all dogs is the hot-dog; it feeds the hand that bites it.
---
Ancient Greek
---
Proverbs
You can't teach an old dog new tricks.
Before you hit the dog, find out the name of his master.
Barking dogs seldom bite.
---
---