best quotations about
and Targets, Objectives, Purpose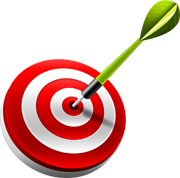 ---
Quotations
The world makes way for the man who knows where he is going.

— Ralph Waldo Emerson, 1803-1884, American philosopher

Obstacles are those frightful things you see when you take your eyes off your goals.

— Henry Ford, 1863-1947, American industrialist, founder of FORD

Next in importance to having a good aim is to recognize when to pull the trigger.

— Dave Letterman, 1947-, American TV talk show host

My course is set for an uncharted sea.
If you aim at nothing, you will hit it every time.
No wind favors he who has no destined port.
Ithaka gave you the marvelous journey.
Without her you would not have set out.
She has nothing left to give you now.

— Constantine Kavafy, 1868-1933, Greek poet ‐ Ithaka

It is wonderful what great strides can be made when there is a resolute purpose behind them.

— Winston Churchill, 1874-1965, British Prime Minister, Nobel 1953

If you want to live a happy life, tie it to a goal, not to people or objects.
He who has a why to live for can bear almost any how.
Talent hits a target no one else can hit; Genius hits a target no one else can see.
The most depraved type of human being ... the man without a purpose.
In a very real sense, it will not be one man going to the moon it will be an entire nation. For all of us must work to put him there.
Our plans miscarry because they have no aim. When a man does not know what harbour he is making for, no wind is the right wind.
Why is art beautiful? Because it's useless. Why is life ugly? Because it's all ends and purposes and intentions.
The most absurd and reckless aspirations have sometimes led to extraordinary success.
As you climb the ladder of success, be sure it's leaning against the right building.
It is not enough to be industrious; so are the ants. What are you industrious about?
The major reason for setting a goal is for what it makes of you to accomplish it. What it makes of you will always be the far greater value than what you get.
The ultimate reason for setting goals is to entice you to become the person it takes to achieve them.
Don't set your goals too low. If you don't need much, you won't become much.
If you have more than five goals, you have none.
The basic definition of the business and of its purpose and mission have to be translated into objectives.
If you don't have your own goals, you'll be doomed to work toward someone else's.
A goal properly set is halfway reached.
If you don't have daily objectives, you qualify as a dreamer.
Outstanding people have one thing in common: an absolute sense of mission.
Leaders are made, they are not born. They are made by hard effort, which is the price which all of us must pay to achieve any goal that is worthwhile.
If you're bored with life, if you don't get up every morning with a burning desire to do things, you don't have enough goals.
It used to be about trying to do something. Now it's about trying to be someone.
In whatever position you find yourself, determine first your objective.
When obstacles arise, you change your direction to reach your goal; you do not change your decision to get there.
---
Proverbs
The end justifies the means.
---
---