best quotations about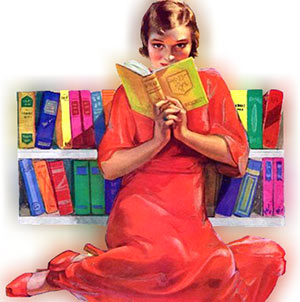 ---
Quotations
A man ought to read just as inclination leads him; for what he reads as a task will do him little good.

— Samuel Johnson, 1709-1784, English writer

The reading of all good books is like a conversation with the finest minds of past centuries.
Reading is thinking with some one else's head instead of one's own.
Some books should be tasted, some devoured, but only a few should be chewed and digested thoroughly.
There is more treasure in books than in all the pirates' loot on Treasure Island.
A book is a mirror: if an ape looks into it an apostle is hardly likely to look out.

— Georg Christoph Lichtenberg, 1742-1799, German author of maxims

Only in books has mankind known perfect truth, love and beauty.
Reading made Don Quixote a gentleman. Believing what he read made him mad.
Read much, but not many books.

— Benjamin Franklin, 1706-1790, American politician & writer

Buying books would be a good thing if we also could buy the time to read them.
The man who doesn't read good books has no advantage over the man who can't read them.
Definition of a classic — something that everybody wants to have read and nobody wants to read.
If you want to read a perfect book there is only one way: write it.
I had found my religion: nothing seemed more important to me than a book. I saw the library as a temple.
All that I know about my life, it seems, I have learned in books.
I never travel without my diary. One should always have something sensational to read on the train.
There is no such thing as a moral or an immoral book. Books are well written, or badly written. That is all.
If we encounter a man of rare intellect, we should ask him what books he reads.
If you have a garden and a library, you have everything you need.
A writer only begins a book. A reader finishes it.
You can never be wise unless you love reading.
Let blockheads read what blockheads wrote.
Let us read, and let us dance; these two amusements will never do any harm to the world.
Reading without reflecting is like eating without digesting.
A good novel tells us the truth about its hero; but a bad novel tells us the truth about its author.
There is a great deal of difference between an eager man who wants to read a book and a tired man who wants a book to read.
As to the book called the bible, it is blasphemy to call it the Word of God. It is a book of lies and contradictions and a history of bad times and bad men.
All modern American literature comes from one book by Mark Twain called Huckleberry Finn.
When I think of all the books still left for me to read, I am certain of further happiness.
Books have the same enemies as people: fire, humidity, animals, weather, and their own content.
Successful people have libraries. The rest have big screen TVs.
Miss a meal if you have to, but don't miss a book.
Reading is not an end to itself, but a means to an end.
The art of reading consists in remembering the essentials and forgetting non essentials.
I hate books, for they only teach people to talk about what they don't understand.

— Jean Jacques Rousseau, 1712-1778, Swiss-French philosopher

Books and ideas are the most effective weapons against intolerance and ignorance.
Not all readers are leaders, but all leaders are readers.
There are very many people who read simply to prevent themselves from thinking.

— Georg Christoph Lichtenberg, 1742-1799, German author of maxims

A sure sign of a good book is that you like it more the older you get.

— Georg Christoph Lichtenberg, 1742-1799, German author of maxims

Politicians should read science fiction, not westerns and detective stories.
Five years from now, you're the same person except for the people you've met and the books you've read.
The worst thing about new books is that they keep us from reading the old ones.
There are perhaps no days of our childhood we lived so fully as those we believe we left without having lived them, those we spent with a favorite book.
Rich people have small TVs and big libraries, and poor people have small libraries and big TVs.
Reading after a certain age diverts the mind too much from its creative pursuits. Any man who reads too much and uses his own brain too little falls into lazy habits of thinking.
With books, as with companions, it is of more consequence to know which to avoid, than which to choose; for good books are as scarce as good companions.
A book which, above all others in the world, should be forbidden, is a catalogue of forbidden books.

— Georg Christoph Lichtenberg, 1742-1799, German author of maxims

A book in which there were no lies would be a curiosity.
Make it a rule never to give a child a book you would not read yourself.
---
Personal Stories
---
Funny Quotes
From the moment I picked your book up until I laid it down I was convulsed with laughter. Someday I intend on reading it.
No trilogy should have more than four books.
I took a course in speed reading, learning to read straight down the middle of the page, and I was able to go through War and Peace in 20 minutes. It's about Russia
I can't understand why a person will take a year to write a novel when he can easily buy one for a few dollars.
I have written a book. This will come as quite a shock to some. They didn't think I could read, much less write.
---
Stupid Quotes
One of the great things about books is sometimes there are some fantastic pictures.
---
Proverbs
Never judge a book by its cover.
If you believe everything you read, better not read.
---
Special Quotes
To read them all, reckon 150,000 years.

— Slogan of the Bibliothèque nationale de France (2014)

Let your fingers do the walking.

— Slogan of Yellow Pages
---
Movie Quotes
That's what makes me sad: life is so different from books. I wish it were the same: clear, logical, organized.

— from the film Pierrot le Fou (1965)
---
---