best quotations about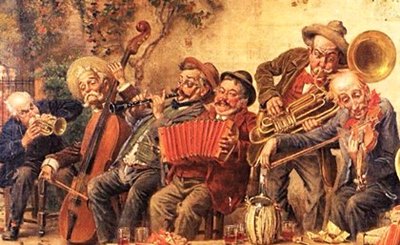 ---
Quotations
Music expresses that which cannot be put into words and that which cannot remain silent.

— Victor Hugo, 1802-1885, French writer

Wagner has beautiful moments but awful quarters of an hour.
It is not easy to determine the nature of music, or why any one should have a knowledge of it.
Music is liquid architecture; Architecture is frozen music.
It's not those who write the laws that have the greatest impact on society. It's those who write the songs.
Without music, life would be a mistake.
Music is the occult metaphysical exercise of a soul not knowing that it philosophizes.
Opera in English, is about as sensible as baseball in Italian.

— H.L. Mencken, 1880-1956, American columnist & cultural critic

The opera…is to music what a bawdy house is to a cathedral.

— H.L. Mencken, 1880-1956, American columnist & cultural critic

Music is the poor man's Parnassus.
Give me a laundress' list and I will set to music even that.
Beethoven I take twice a week, Haydn four times, and Mozart every day.
Heard melodies are sweet, but those unheard, are sweeter.
My soul is a hidden orchestra; I know not what instruments, what fiddlestrings and harps, drums and tamboura I sound and clash inside myself. All I hear is the symphony.
Music with dinner is an insult both to the cook and the violinist.
All good music resembles something. Good music stirs by its mysterious resemblance to the objects and feelings which motivated it.
The earth has music for those who listen.
You are the music while the music lasts.
One good thing about music, when it hits you, you feel no pain.
If I had my life to live over again, I would have made a rule to read some poetry and listen to some music at least once every week.
If music be the food of love, play on.

— William Shakespeare, 1564-1616, English poet & playwright ‐ Twelfth Night

I can't listen to music too often. It affects your nerves, makes you want to say stupid, nice things, and stroke the heads of people who could create such beauty while living in this vile hell.
Music in the soul can be heard by the universe.
---
Personal Stories
I know of nothing better than the Appassionata and could listen to it every day.
---
Quotes in Verse
The music in my heart I bore
Long after it was heard no more.
---
Funny Quotes
Opera is when a guy gets stabbed in the back and, instead of bleeding, he sings.
The only good thing ever to come out of religion was the music.
I can't listen to that much Wagner. I start getting the urge to conquer Poland.
---
Ancient Greek
---
Movie Quotes
Play it once, Sam, for old times' sake...Play it, Sam.
Play "As Time Goes By".

— from the film Casablanca (1942)
---
---