best quotations about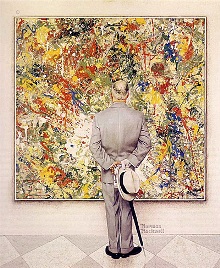 ---
Quotations
How beauty varies in nature and art! In a woman the flesh must be like marble; in a statue the marble must be like flesh.

— Victor Hugo, 1802-1885, French writer

My aesthetic is that of the sniper on the roof.

— Jean-Luc Godard, 1930-, French film director

The object of art is to give life shape.

— Jean Anouilh, 1910-1987, French playwright

Few artists thrive in solitude and nothing is more stimulating than the conflict of minds with similar interests.

— Arthur Clarke, 1917-2008, British Sci-Fi writer

Aesthetic emotion puts man in a state favorable to the reception of erotic emotion... Art is the accomplice of love. Take love away and there is no longer art.
Art is a lie that makes us realize the truth.
Art is the tree of life. Science is the tree of death.
All art is erotic.
The purpose of art is washing the dust of daily life off our souls.
Give me a museum and I'll fill it.
The world today doesn't make sense, so why should I paint pictures that do?
Bad artists copy. Good artists steal.
Art is the elimination of the unnecessary.
There is no abstract art. You must always start with something. Afterward you can remove all traces of reality.
I paint objects as I think them, not as I see them.
Painting is just another way of keeping a diary.
Some painters transform the sun into a yellow spot, others transform a yellow spot into the sun.
You don't make art, you find it.
We have art in order not to die of the truth.
Treat a work of art like a prince: let it speak to you first.
An artist is somebody who produces things that people don't need to have.
Art is what you can get away with.
Making money is art. And working is art. And good business is the best art.
You'd be surprised how many people want to hang an electric chair on their living-room wall. Specially if the background color matches the drapes.
My idea of a good picture is one that's in focus and of a famous person.
Life imitates art far more than art imitates Life.
No great artist ever sees things as they really are. If he did, he would cease to be an artist.
If one does not understand the usefulness of the useless and the uselessness of the useful, one cannot understand art.
A work of art really is above all an adventure of the mind.
The artist produces for the liberation of his soul. It is his nature to create as it is the nature of water to run down the hill.
Art is a jealous mistress.
Every artist was first an amateur.
Art can never exist without Naked Beauty displayed.
Poetry, Painting & Music, the three powers in man of conversing with paradise, which the flood did not sweep away.
First thought is best in Art, second in other matters.
What is art but the denial of life?
Art consists in making others feel what we feel.
Why is art beautiful? Because it's useless. Why is life ugly? Because it's all ends and purposes and intentions.
If the world were clear, art would not exist.
The artist reconstructs the world to his plan.
The job of the artist is always to deepen the mystery.
Art attracts us only by what it reveals of our most secret self.
An artist cannot speak about his art any more than a plant can discuss horticulture.
When a work appears to be ahead of its time, it is only the time that is behind the work.
Art is science made clear.
One must be a living man and a posthumous artist.
Art produces ugly things which frequently become more beautiful with time. Fashion, on the other hand, produces beautiful things which always become ugly with time.
The study of beauty is a duel in which the artist cries out in terror before being defeated.
The more a man cultivates the arts the less he fornicates.
A work of art is never finished; it is only abandoned.
Degas is one of the very few painters who have given the floor its true importance.
What the public like best is fruit that is overripe.
Art like life should be free, since both are experimental.
Art is not a thing; it is a way.
Science is spectral analysis. Art is light synthesis.
Only he is an artist who can make a riddle out of a solution.
Art is something that is so perfectly clear that no one comprehends it.
Artists have a right to be modest and a duty to be vain.
Art is the escape from personality.
There comes a time as an artist, can't follow the crowd. You have to do YOU, and make the crowd follow you.
The role of the artist is to ask questions, not answer them.
The person who wants nothing, hopes for nothing, and fears nothing can never be an artist.
The moment when one first meets a great work of art has an impact that can never again be recaptured.
A work in which there are theories is like an object which still has the ticket that shows its price.
Painting is a blind man's profession. He paints not what he sees, but what he feels, what he tells himself about what he has seen.
Art is not the application of a canon of beauty but what the instinct and the brain can conceive beyond any canon. When we love a woman we don't start measuring her limbs.
All art is immoral.
All children are artists. The problem is how to remain an artist once he grows up.
It took me four years to paint like Raphael, but a lifetime to paint like a child.
One of the most striking signs of the decay of art is the intermixing of different genres.
---
Latin Quotes
Nature [is] the mistress of art.

Natura, artis magistra.
---
Funny Quotes
I went to a museum where they had all the heads and arms from the statues that are in all the other museums.

— Steven Wright, 1955-, American comedian

Painting: The art of protecting flat surfaces from the weather and exposing them to the critic.
---
Stupid Quotes
Anyone who sees and paints a sky green and fields blue ought to be sterilized.
---
---