best quotations about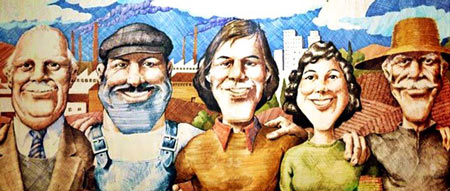 ---
Quotations
What is a society without a heroic dimension?

— Jean Baudrillard, 1929-2007, French intellectual

We are no longer in a state of growth; we are in a state of excess. We are living in a society of excrescence.

— Jean Baudrillard, 1929-2007, French intellectual

Society is a wave. The wave moves onward, but the water of which it is composed does not.
He who is unable to live in society, or who has no need because he is sufficient for himself, must be either a beast or a god.
Society: an inferno of saviors!
All progress means war with Society.
It's not those who write the laws that have the greatest impact on society. It's those who write the songs.
The true measure of any society can be found in how it treats its most vulnerable members.
The history of all hitherto existing society is the history of class struggles.
One cannot live in society and be free from society.
The ability to get along without an exceptional leader is the mark of social vigor.
If a free society cannot help the many who are poor, it cannot save the few who are rich.
We must reject the idea that every time a law's broken, society is guilty rather than the lawbreaker. It is time to restore the American precept that each individual is accountable for his actions.
Mercy is the golden chain by which society is bound together.
We must live together as brothers or perish together as fools.

— Martin Luther King, 1929-1968, American leader in the Civil Rights Movement

Free enterprise cannot be justified as being good for business. It can be justified only as being good for society
A society will be judged by how it treats its weakest members.
---
---