best quotations about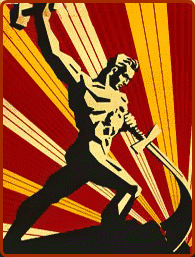 ---
Quotations
When the going gets tough, the tough get going.
The question isn't who is going to let me; it's who is going to stop me.
Never allow a person to tell you "no" who doesn't have the power to say "yes".

— Eleanor Roosevelt, 1884-1962, American politician & wife of the 32nd USA president

What does not kill me, makes me stronger.
Against a better will the will fights ill.
If you haven't the strength to impose your own terms upon life, then you must accept the terms it offers you.
He who overcomes others is strong, but he who overcomes himself is mightier still.
The great questions of the time are not decided by speeches and majority decisions but by iron and blood.
I love those who yearn for the impossible.
It's not the size of the dog in the fight, it's the size of the fight in the dog.
A man is what he wills himself to be.
I am. I think. I will.
Don't pray for an easy life, pray to be a stronger man.
All theory is against the freedom of the will; all experience for it.
History does not teach fatalism. There are moments when the will of a handful of free men breaks through determinism and opens up new roads.
When it comes to winning, you need the skill and the will.
Will minus intellect constitutes vulgarity.
We will not waver; we will not tire; we will not falter, and we will not fail. Peace and Freedom will prevail.
The spirit, the will to win, and the will to excel, are the things that endure. These qualities are so much more important than the events that occur.
The difference between a successful person and others is not a lack of strength, not a lack of knowledge, but rather a lack of will.
Are there no more worlds that I might conquer?
The people who get on in this world are the people who get up and look for the circumstances they want, and, if they can't find them, make them.
---
Latin Quotes
Faster, Higher, Stronger

Citius, Altius, Fortius.

— Motto of the Olympic Games

(initially, a motto of Pierre de Coubertin's school)
---
Proverbs
The strong have will and the weak have hope.
Where there's a will, there's a way.
To want is to can.

Vouloir, c'est pouvoir.
---
Special Quotes
Impossible is nothing.

— Motto of Adidas
---
Movie Quotes
Oooh! Somebody stop me!

— from the film The Mask (1994)
---
---