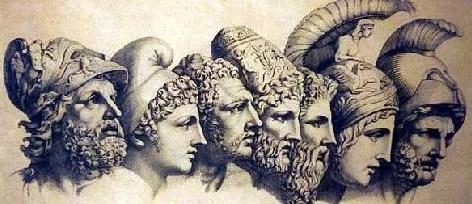 Classic Ancient Greek quotes, proverbs, maxims and phrases.
page 6 of 6
---
Nature
Φύσις κρύπτεσθαι φιλεί.

Nature is wont to hide herself.

Η φύσις μηδέν μήτε ατελές ποιεί μήτε μάτην.

Nature does nothing without purpose or in vain.

Εν πάσι γαρ τοις φυσικοίς ενεστί τι θαυμαστόν.

In all things of nature there is something of the marvelous.
Sun
Ο ήλιος, καθάπερ ο Ηράκλειτος φησι, νέος εφ' ημέρη εστίν.

The sun, as Heraclitus says, is new every day.
Water
Άριστον μεν ύδωρ.

The best, however, [is] water
Fire
Κόσμον τονδε, τον αυτόν απάντων, ούτε τις θεών ούτε ανθρώπων εποίησεν, αλλ' ην αεί και έστιν και έστε πύρ αείζωον.

This world, which is the same for all, has not been made by any god or man, but it always has been, is, and will be an ever-living fire.

— Heraclitus, 544-484 BC, Ancient Greek philosopher
Horses
Οίον ίππον απολλύουσι, δι' απειρίαν και μαλακίαν χρήσασθαι μη δυνάμενοι.

What an excellent horse do they lose, for want of address and boldness to manage him!

— Alexander the Great, 356-323 BC, King of Macedon

(seeing Bucephalas being led away as useless)
page 6 of 6
---